What is a Gimp Normal map? It is a texture you can make in a paint program like The Gimp. When you apply the Normal Map to a model, it can give you a lot of extra detail. This is the concept of the Normal Map. It makes graphics a lot faster.
Creating Normal maps in Gimp is easy to do. Before you can use the Normal Map filter in Gimp, you need a gray scale image. The darker shades will have an indented effect and lighter shades will have an extruded effect. Then with the Gimp filter, convert it to a Normal map, and apply it to the model.
Watch the video:
Download the Gimp Normal Map plug-in from http://code.google.com/p/gimp-normalmap/
This Gimp plug-in does just as good as the Normal Map filter in Photoshop. Download the zip file for your computer (32 or 64 bit).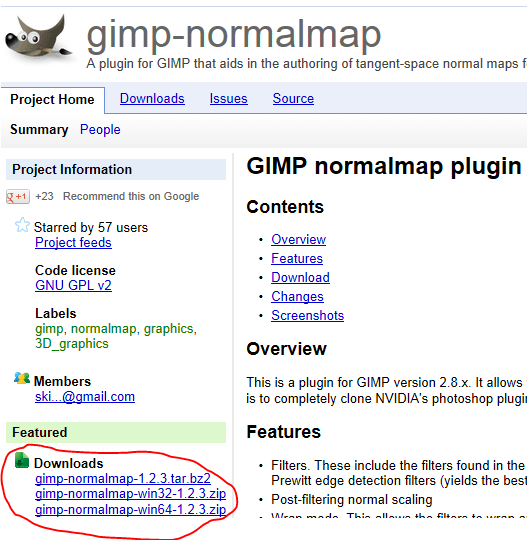 Unzip the file. Copy and paste the normalmap.exe file to your Gimp Plug-ins folder. In this case it was: C:\ Program Files\ GIMP 2 \ lib \ gimp \ 2.0 \ plug-ins.
Go back and copy and paste the three .dll files to your Gimp bin folder.
In this case it was C:\ Program Files \ GIMP 2 \ bin. Copy and paste all three.
To use the Normal Map plug-in in Gimp, you must have a grey scale image (first pick a Layer or Flatten Image). Then go to Filters / Map / Normalmap.
The most useful settings with this Gimp plug-in are the Filter and Scale. Click OK to convert the grayscale image or layer into a Normal Map. You have to experiment with the settings. If the results are too soft, or to deep, then Undo, and change the settings again.
In Gimp, the grey scale image is converted into a Normal Map.
The Normal map is applied. See the Normal Map tutorial. See the cool video of the ball turret.
Another example of a greyscale image and converting to a Normal Map in Gimp.
Before and after the Normal map is applied. See the Normal Map tutorial.
Here is another example of a Normal map made with Gimp. See the Flying Wing tutorial.
To learn more about creating normal maps in Gimp, see the links below.
If you liked this tutorial, please share with your friends:
Related Posts